With the changing seasons comes a whole new set of cleaning needs. One area that often gets overlooked is carpet maintenance in your home in the Niagara region. With winter's constant tracking of dirt and grit, it can be hard to keep carpets looking fresh and clean all year long.
Luckily, you can take steps to ensure proper care for carpets with everyday use like vacuuming regularly (and not just once per week!), using appropriate storage containers or bags to contain spills, and most importantly, monthly professional carpet cleaning!
It is easy to get an appointment with our team – just click on the link below this paragraph!
This blog post will teach homeowners about some simple ways to maintain their home's carpets, so they continue to look great!
Everyday Carpet Care
Regular vacuuming (at least once per week)
Use storage containers or bags for spills
Clean up stains as soon as possible to prevent permanent staining
Regular professional cleaning (at least 1x per month)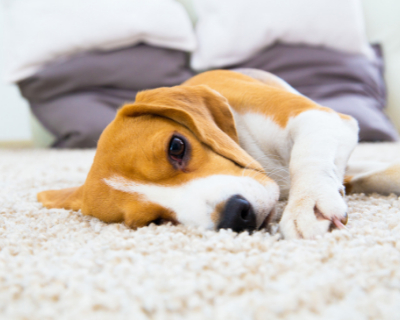 Professional Carpet Cleaning in the Niagara Region
Choose a reputable company to provide an honest assessment of the condition of your carpets. Do not be swayed by false claims of great dirt or stains that need professional attention!
This is especially important for pets because many carpet cleaning companies will use scare tactics and oversell services and products.
Please inquire about the composition of their carpet cleaning solutions. Most companies will use water and soap, but others may opt for chemical cleaners that use dangerous toxins or ammonia.
Choose a company that provides an allergen-free cleaning service. Many soaps contain allergens, while others may resort to harsh chemicals, exacerbating the problem.
Check the company's reviews to be sure they are reputable. Researching online is a simple way to affirm this for most companies.
"Fresh" fragrances are added after cleaning, so do not be alarmed if your carpet does not smell like spring flowers immediately after cleaning.
Ask about their drying process and whether or not they use equipment that will damage your carpet.
Generally, after cleaning, carpets are wet for at least 12 hours and can take as long as 48 hours to completely dry. This means carpets must be protected from foot traffic during this time. Ask if they will protect your furniture from possible damage or if you should move it yourself.
Only use reputable companies reviewed and meet or exceed industry standards. Do not settle for less than the best!
The Best Carpet Cleaning Company
We go above and beyond by providing exceptional services. Our best practices include:
Regular carpet maintenance in by Carpet Cleaning Niagara will help your carpets last for many years. Please contact us for any questions or would like a free quote today!
Using only water and soap for most areas
When we have to, using only chemicals that are safe for pets and children
Providing allergen-free cleaning services
Drying carpets within 12-48 hours, depending on the size of your home or room to be cleaned
Ensuring our equipment will not damage your carpets during the drying process
Do not settle for less than the best. Our reviews speak for our reputation in the industry!
For a list of services we provide in your area, click on the "Services" link from our website. We look forward to serving you in person in the Niagara region soon!